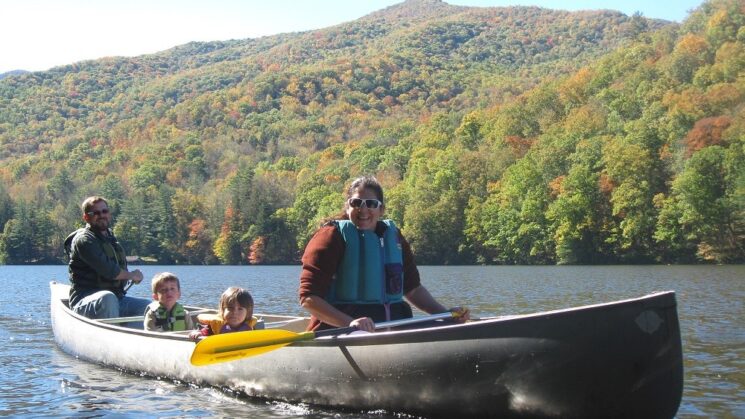 By Christy Perrin, for the Watershed Stewardship Network
Photo: A family enjoys a day out paddling on Lake Logan in western North Carolina.
Have you ever stuck your face into a clear mountain stream? If Haywood Waterways Association (HWA) has their way, many people will be meeting eye to eye with their aquatic neighbors. HWA and several diverse partners are hosting a series of guided hikes and paddling and river snorkeling trips to introduce people to their water resources, planting the seeds for new watershed stewards. These "getting to know your watershed" events have been extremely successful at recruiting new people to protect local waterways. As one snorkel trip participant said, "I never knew there was this much diversity in our streams. I saw lots of cool fish and bugs and some monster trout, which I didn't believe were in here since they never take my bait. Hopefully that hog sucker I kissed will bring me good luck!" Since the events started in 2014, the number of new members joining HWA each year has increased 300% (wow!) and interest in volunteering for fundraising and stream monitoring activities has increased.
The word is out about these "friend-raiser" trips through email, social media, press releases, and word of mouth. In 2015, HWA has held six events with an average of 20 kids and adults of all ages who firsthand learn the positive benefits of experiencing nature in their backyard. Participants enjoyed Lakes Logan and Junaluska, Big Creek, Rough Creek, Pigeon River, Pisgah National Forest, the Blue Ridge Parkway and the Great Smoky Mountains National Park. They experienced and learned about drinking water supplies, forestry, wildlife and wildflowers, gaining awareness of their local natural resources as well as HWA's work protecting those resources.
While not everyone's backyard includes the Great Smoky Mountains National Park, every watershed has its natural charms once you know where to go. HWA was kind enough to pass along their secret recipe for successful outdoor introductory watershed events.
Find a beautiful or interesting natural resource and plan an event around it.
Sneak in watershed science- partner with local and state public agency staff -Extension, Soil & Water Conservation Districts, municipal stormwater educators, NC Division of Water Resources, NC Wildlife Resources Commission – all are great resources for raising awareness.
Partner with outdoor recreational guides- they specialize in helping people have fun outdoors, safely. The paddle trips are the most popular events HWA provides.
Food is a selling point! It doesn't have to be fancy, snacks and beverages work fine.
Harness the power of fun!
NCWSN founders' 2013 survey of ~80 watershed volunteers across NC found the number one reason people got involved in water protection efforts was because they felt connected to their natural resources (>80% of respondents!). The least chosen reason for getting involved? Guilt! These results suggest guilt may not be an effective strategy.
Instead, share your joy for our natural resources with others, and help them have fun out there! They may even join your efforts in protecting them.
"Getting to Know your Watershed" Events are sponsored by Haywood Waterways Association, Lake Logan Episcopal Center, Town of Canton, Waynesville Recreation Center, Haywood Community College, and National Park Service- Great Smoky Mountains National Park. For more information www.haywoodwaterways.org/.
☔︎