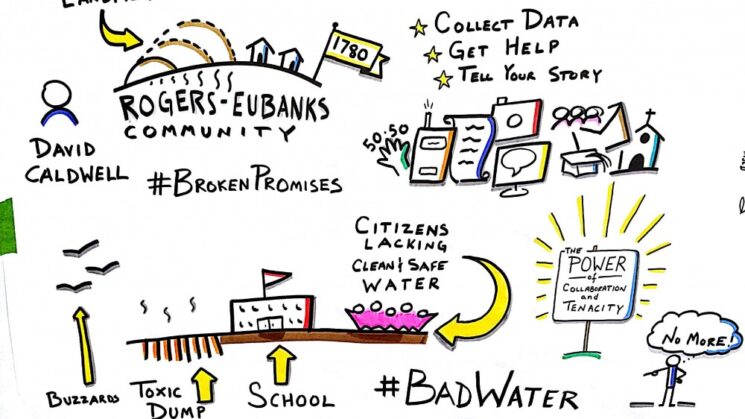 By Christy Perrin, for the Watershed Stewardship Network
Image: A drawing of the Roger-Eubanks landfill shows the multiple effects it has on the surrounding community.
We were excited to recently partner with Veronica Bitting of the SE Rural Communities Assistance Project and David Caldwell of the Rogers-Eubanks Neighborhood Association (RENA) to present a case study on RENA's work at our recent Steering Committee meeting. David is a lifelong resident of the Rogers- Eubanks Neighborhood, an African American community founded by freed slaves in the 1780's. The community is in Orange County, in between Carrboro and Chapel Hill. David told a story of a tenacious group of people who received a landfill in their community, and who organized to find relief from the impacts on air, water and health that followed. When the landfill that served Chapel Hill was sited in the community in 1972, promises by the local governments to provide basic amenities, including connecting members to water and sewer, eased some of the concerns expressed. Years went by, and while concerns about surface and well water and air quality increased, the landfill expanded, illegal dumping regularly happened and the community amenities were still lacking. A water line was eventually extended into the community in 2002. We asked David why weren't people connected to water? We heard that not all residents could afford the connection fee. And when people aren't organized and don't trust the government, they fall through the cracks. Fear of government and retribution can be a powerful and silent force against progress- although septic systems were failing, increasing health and water quality risks, residents were fearful to report sewage spills. What if their homes were condemned? David commented that many in the community "thought we were alone."
Organizing to Take Control and Empower the Community
David and his neighbors organized a grassroots movement to gain the power of a collective and build the capacity to find relief. They turned to UNC-Chapel Hill partners to collect the data and document community impacts in a way that would get the attention of officials. For example, a professor and students brought in "Baby", a machine that sampled air for presence of hydrogen sulfide and provided surveys to residents to gauge air quality impacts. RENA got help evaluating their wells and septic tanks, and learned how to maintain pumps, how to create power points and how to influence, and collaborate with, local government officials. They hosted doable "50/50" service events- something people could do to improve the community in 50 minutes for $50 or less.
Years of work building grassroots organization, engaging university and local government partnerships, collecting data and speaking out and with officials has led to a number of successes in the Rogers-Eubanks community. Some of these include:
The landfill closed in 2013
A new community center opened in 2014 which serves as a hub for community activities ranging from a community garden, meals, after-school programs and group meeting space.
Residents are in the process of getting connected to water and sewer services
Other communities experiencing the negative brunt of environmental decisions often turn to RENA for assistance.
Participants discussed ideas and advice with David and Veronica for working with disenfranchised communities. Some ideas included:
Don't say "how can you be like your big brother?" We might not want to be like big brother.
Organize to take control (to local groups).
Use your assets and do what you can with them.
EPA Title IV of the Civil Rights Act provides an avenue for formal complaints about programs and activities using federal funds that may discriminate on basis of race, color, or national origin.
Share investigative results with local governments.
Help link local community groups with university and other resources to build capacity- "that's the power the NCWSN will bring to disenfranchised communities. Officials will ask 'who is with you today?'" said David.
Collaboration is key to success.
Many have wanted to enter into the community with a short-term grant and ideas for improvement and then leave. This has been an issue- longevity and relationships matter.
Do your research before approaching communities for engagement- check for articles, stories and publications to educate yourself on the basic issues.
The NCWSN has committed within its strategic plan to serving communities in historically underserved areas. The Chapel Hill discussion was part of our continuing effort to understand issues affecting underserved communities, and to consider how to increase the network's capacity to engage and serve communities experiencing environmental injustices. The issue of environmental justice is deeper than what we've reported here and deserving of more time to unwind its complexities. Here are a few more resources to learn more about the RENA story in particular:
Visit the Rogers-Eubanks Neighborhood Association website at
https://www.renacommunitycenter.com/
Read Rogers Road, a book by Emily Eidenier
Visit the Historic Rogers Road Area page at the Town of Chapel Hill's website
www.townofchapelhill.org
January 2016 New Yorker article about the RENA community, Fighting Environmental Racism in North Carolina
Thank you to David Caldwell of RENA for speaking with us, to Veronica Bitting for helping with the RENA case study and discussion and to Mike "Muddy" Schlegel of the Whiteboard Academy for the graphic summary of the case study that is posted with this story.
☔︎