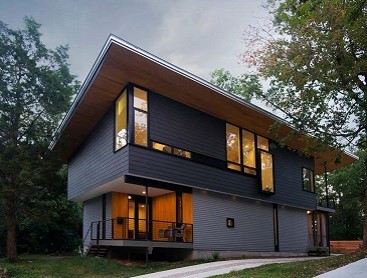 Four land development projects were honored during the seventh annual awards ceremony for the Greater Triangle Stewardship Development Awards Program (GTSDA). These awards recognize development projects in the Triangle area that go above and beyond state and local requirements to incorporate innovative environmental protections and provide a model for green development practices. This year's winners included Chatham Park Medical Office Building #2 in Chatham County, Wooten Meadow Park Master Plan in Raleigh, and NC State's Talley Student Union in Raleigh, with the highest honors going to the Hungry Neck Residence in Raleigh.
The 2017 awards marked the first time applications were opened to single family homes. The awards ceremony was held at the JC Raulston Arboretum on May 4.
An interdisciplinary expert panel of judges evaluated the projects for achievement in these areas:
Natural resource assessment
Water quality protection
Wildlife Habitat Protection
Vegetation Protection and Enhancement
Green Building
Integration with the Community
Long-Term Management and Maintenance
Community Outreach and Education
Shelly Epps Parker, Sustainable Travel Services Manager for Go Triangle, spoke at the event about sustainable transportation, followed by a keynote address about green infrastructure from Larry Band, PhD, Director for the UNC Institute for the Environment. Awards were then presented to recipients by GTSDA Board members.
The four award-winning projects for 2017 are:
Hungry Neck Residence, Raleigh
This urban infill residence in Raleigh, pictured above courtesy of Raleigh Architecture Company, was awarded the highest award, a Gold Stewardship Development Award. The project demonstrated exceptional achievement on all applicable GTSDA criteria. Raleigh Architecture Company worked closely with the homeowners to create a purposefully sustainable home that was sited to protect and enjoy onsite trees, includes a geothermal heating and cooling system, energy efficient choices such as galvanized metal roofing to reduce solar heat gain and natural lighting, permeable paving to reduce stormwater runoff, and a cistern used to harvest rainwater for reuse in flushing toilets, washing clothes, and irrigation. Judges were particularly appreciative of the homeowners' use of stormwater cost share funding from the City of Raleigh to voluntarily reduce the stormwater running off their property.
Talley Student Union, Raleigh
Talley Student Union at NC State University received a Silver Stewardship Development Award. The Talley Student Union is a project that incorporates stormwater management, improved user experience, native plant use, an underground cistern, green roofs, continued education, admirable composting achievements, and ongoing improvement planning.  The project demonstrated exceptional achievement on most of the applicable GTSDA criteria. Highlights include re-use of the existing building, the thoughtful integration with the campus community before and after construction, and the outstanding educational involvement with students in understanding the design and construction. The closed loop composting system and efforts to engage students in continually improving operations and maintenance sustainability, in one of the most visible locations on main campus, impressed the judging panel. Talley Student Union's past and ongoing sustainability efforts demonstrate the university's sustainability commitments and help advance sustainability goals.
Wooten Meadow Park Master Plan, Raleigh
The Wooten Meadow Park Master Plan was awarded a Stewardship Concept Award for the exceptional promise it demonstrates in meeting GTSDA criteria. This City of Raleigh Park Master Plan was completed by Site Collaborative, Inc. with Ward Consulting Engineers and the City of Raleigh. The master plan process for this 21 acre park began in September 2014 and was approved by City Council in January 2016. The plan provides spaces for enjoying nature, passive recreation, education, and preservation. A future connection to the Capital Area Greenway is featured as is a natural-themed play area; access to an overlook for the historic dam on the property; and a constructed wetland with boardwalk. Judges particularly appreciated the extensive natural resources and habitat analysis that was performed for the site, efforts to obtain meaningful community involvement and engagement, the willingness to improve the condition of Hare Snipe Creek that is on the site, and to feature the various successional (ecological) states that exist on-site as an educational focus.
Chatham Park Medical Office Building #2, Pittsboro
Chatham Park Medical Office Building #2 was awarded an Honorable Mention for its exemplary stormwater management and education and outreach. The project site was completed by Chatham Development One, LLC with Withers Ravenel and consists of two 8,500 square foot buildings and parking area. The stormwater from the development is managed on site through bioretention including a water feature within a courtyard. This unique water feature receives runoff from a butterfuly roof through free-falling downspouts and granite runnels. The judges felt this project demonstrated exceptional stormwater management to protect downstream water quality, while also making stormwater visible on site, and thus using it as an amenity. They also appreciated the provision of public space for community members in the courtyard, and a community meeting room in the building, and efforts taken to highlight and educate sustainability benefits.
Sponsors for the GTSDA Awards included lead sponsor Go Triangle, Cardinal level sponsors Moffatt & Nichol, Soil & Environmental Consulting, and Surface 678; Chickadee level sponsors Royal Water Resources, NC Water Resources Research Institute, and NC Sea Grant, with beverages provided by Haw River Farmhouse Ales.
Modeled after a sister program in coastal North Carolina, the Lower Cape Fear Stewardship Development Awards, the Greater Triangle Stewardship Development Awards Program was established in 2010 and incorporated as a 501(c)(3) nonprofit organization in 2014. Applications for recognition in the 2018 cycle will be solicited in fall 2017.
More information about the program and past winners is available at www.trianglestewardship.org