By Katelyn Vause and Summer Walls
Nearly 400 attendees gathered March 21-22 to explore research, network with professionals and engage in timely discussions about one of the world's most valuable resources — all at the 21st North Carolina Water Resources Research Institute Annual Conference.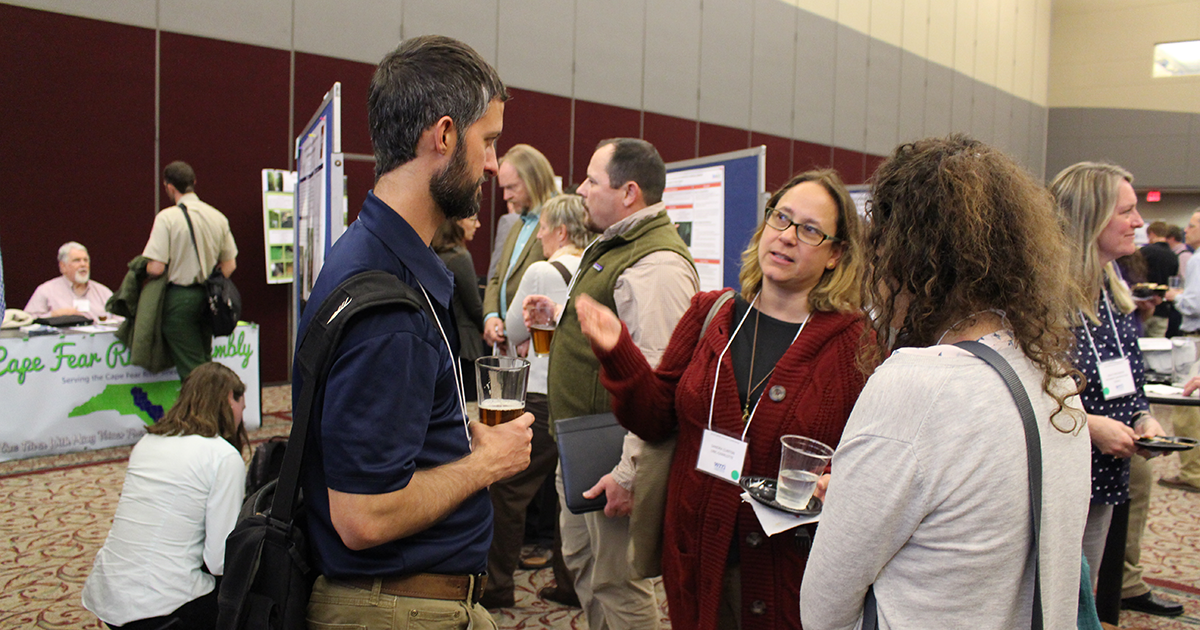 Held at the McKimmon Center on the North Carolina State University campus, the conference was the most well-attended in the program's history.
Said one conference attendee, "I really enjoyed how it was a mix of academia, nonprofits and government, rather than just academia. It makes the conference more approachable. It also addresses real-world problems that deal with water and affect each and every one of us."
Professionals and students attended sessions on subjects ranging from water utility management and contamination concerns to algae and nutrients in water bodies, and listened to poster presentations on a variety of research topics, including the impact of vegetation removal on dry detention basins and cyanotoxins in North Carolina's lakes, plus many more.
"It's a who's who of North Carolina water. High-quality presentations with local relevance."
The conference also featured full-fledged panel discussions on a multitude of issues, such as changes in wetlands protection. Nearly 30 lightning talks engaged and educated listeners on timely topics ranging from saltwater intrusion on the coast to what we can learn from beavers.
Said another attendee, "The research efforts presented during the poster session were really impressive….The lighting talk format seems like an excellent way to provide an opportunity for undergraduate students to gain experience making oral presentations before the scientific community."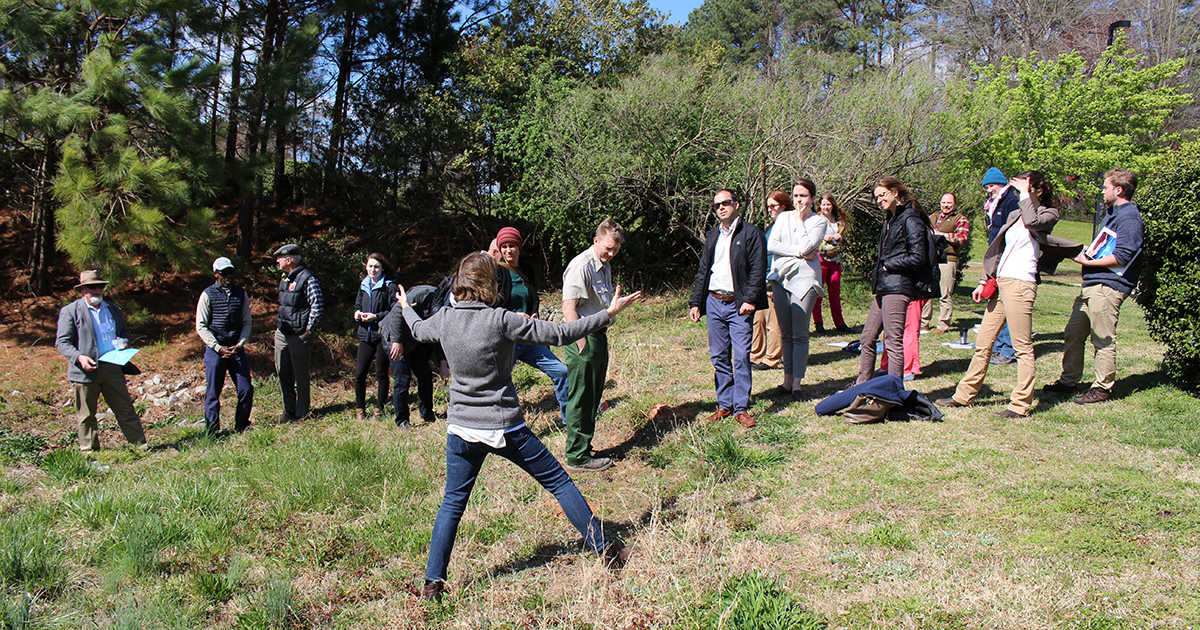 The Annual Conference also hosted well-attended workshops on teaching water literacy, managing and sharing water data, planning for climate change resilience and available resources for drought information. As part of the Annual Conference mentorship program, begun last year, students and young professionals met with experienced professionals in their fields for round table discussions about growing in their careers.
A variety of organizations had a presence at the conference, including 10 universities, nearly 20 local government bodies, almost 50 private businesses and over 15 nonprofits. Also present were more than a dozen state and federal government agencies, including the U.S. Geological Survey, the U.S. Forest Service, the North Carolina Department of Environmental Quality, North Carolina Department of Transportation and the North Carolina Coastal Federation. Nearly 20 organizations and agencies – including the U.S. Geological Survey, North Carolina State Climate Office, Piedmont Conservation Council and North Carolina Sea Grant – also hosted exhibitions in the busy exhibition hall.
"It's a who's who of North Carolina water. High-quality presentations with local relevance. And you have the best keynote speakers!" said another attendee.
On the first day of the conference, Vernice Miller-Travis of Skeo Solutions, Inc. delivered an inspiring keynote address on the importance of community engagement in water-resource decisions. Miller-Travis is the senior advisor for environmental justice and equitable development at Skeo, a consulting firm, and is on the Skeo Community Planning and Revitalization team. For her keynote, she drew from her 30 years of experience as a leading proponent of environmental justice and equitable and sustainable development and her understanding of the overlap between civil rights and environmental enforcement.
Miller-Travis gave examples from New York City, the Midwest and even here in Raleigh with a recent planning effort for renovating John Chavis Memorial Park. NC WRRI's Christy Perrin worked with Miller-Travis and City of Raleigh on the public participation aspect of the Chavis Park planning. Skeo and Miller-Travis also created a Walkable Watersheds plan for Southeast Raleigh's Little Rock Creek.
The Annual Conference included a poster presentation competition for North Carolina students and faculty to present their research. From 37 posters, judges awarded Kirsten Studer first place for her poster "Troubled waters: How can wastewater impact drinking water quality?" Lori Farley's poster, "Green stormwater infrastructure in urban coastal plain watersheds: ECU campus as an outdoor field laboratory," was selected for the second-place award. Brock Kamrath earned third place for his presentation of "Evaluating nitrogen removal performance and potential improvements for a tertiary treatment constructed wetland in North Carolina." Erica Wood earned the Honorable Mention for her poster "Mental models risk communication to promote private well testing in underserved minority communities: Communication design."
Among the many researchers who gave full presentations during the conference were a multitude funded by WRRI or through the Urban Water Consortium (UWC) or Stormwater Group (SWG), including Austin D. Gray of the University of North Carolina at Greensboro; Nathan S. Hall of the University of North Carolina Institute of Marine Sciences; and Nancy Gibson, Zachary Hopkins, Jack Kurki-Fox, Amie McElroy, Astrid Schnetzer, Charles C. Stillwell and Sarah Waickowski, all of North Carolina State University.
For their generous contributions to the conference's success, WRRI would like to thank the following sponsors: Albemarle-Pamlico National Estuary Partnership (APNEP), Duke Energy, YSI-Xylem, the Consortium of Universities for the Advancement of Hydrologic Science, Inc. (CUAHSI), Tetra Tech, Cape Fear River Watch, Carolina Wetlands Association and the Upper Neuse River Basin Association (UNRBA). These organizations' gifts additionally help maintain and nurture WRRI's student engagement opportunities. The conference mentorship program, now in its third year, and the roundtable career discussions, which offer advice and networking for students and young professionals, have become attendee favorites.
WRRI also thanks conference attendees for helping the Annual Conference earn the Wolfpack Certified Sustainable Steward designation for three years running through reuse and recycling of conference materials and other sustainability-minded actions. The staff and friends of WRRI look forward to the 22nd Annual Conference in 2020, which will take place March 18 and 19 again at the McKimmon Center. All interested groups are cordially invited to save the date.