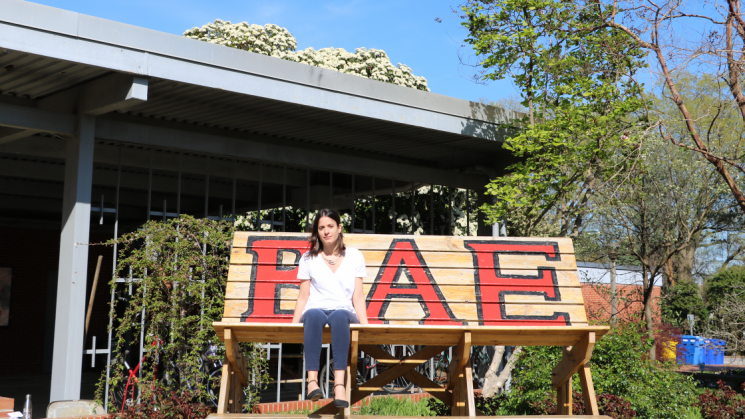 A WRRI–North Carolina Sea Grant-supported researcher studies decades of satellite data to see the where and how CAFOs may be impacting water quality.
By Maya Hoon
UPDATED: Home to many swine industries, North Carolina has been a booming hub for concentrated animal feeding operations (CAFOs) since the 1980s. However, as hog farms continue to increase, more hog waste is stored in open-air lagoons, posing risks to water resources.
Hog CAFOs are industrially-owned hog facilities, typically hosting high densities of swine. These CAFOs are designed to contain and feed swine for a certain amount of time before they are harvested for meat production. In the time these hogs are raised, their waste – usually consisting of feces – are kept in waste lagoons.
Many hog farmers spray stored hog waste from the lagoons onto surrounding agricultural fields to recycle the waste and water crops. However, these sprays potentially introduce pathogens, excessive nutrients (such as phosphorus and nitrogen), and other emerging contaminants into water resources through soil infiltration and runoff. Not only are water resources threatened, but local communities as well.
Interested in the relationship between hog farm density and local water quality, Lise Montefiore, a third-year Biological & Agricultural Engineering (BAE) Ph.D. student at North Carolina State University, is using a joint North Carolina Sea Grant – WRRI fellowship to tackle the issue.
Montefiore uses historical water quality data and swine density data to paint a picture of their relationship starting from 1985. While the historical water quality data are available, swine density location data prior to 1997 are not.
Thus, Montefiore works to reconstruct the growth of swine CAFO waste lagoons since 1985, using various statistical and geospatial analytics programs. Once she gathers this data, she will analyze any connections between water quality patterns and waste lagoon densities.
A Researcher Since Childhood
"Since I was young, maybe six or seven years old, I've wanted to do research," Montefiore says. "My career aspirations were always related to research."
While she had not definitively chosen to pursue water research, Montefiore's natural curiosity drew her to environmental research at a young age.
When hiking with her mother, Montefiore would often stop to pocket a stone on the path, carrying it home to her "laboratory" where she would observe the stone in water and perform small experiments of her own.
While her initial interests pertained to volcanology and geology, Montefiore's focus began to specialize in land use impacts on water resources throughout her undergraduate career.
"If we don't have water, we cannot live. We cannot have food. It's a very critical resource," Montefiore says. "I didn't want to do something that was not significant. I wanted to do something that could improve people's lives."
Crafting Methods
Working in the Biosystem Analytics Lab under her advisor, Natalie Nelson, Montefiore does not conduct field and lab work like some of her peers in the BAE department. Instead, "My best friend is my computer," she says.
Devoting her time to her screen, Montefiore uses Google Earth Engine, R, and other open sources, where she can get her data and statistical analyses. With these tools at hand, she has developed a method to apply algorithms to satellite images in which she can detect waste lagoons.
"There were a lot of difficulties," Montefiore admits. "Initially, the method I proposed to detect swine CAFO growth with imagery did not work. Then, I found a new solution that was much better, but it could only correctly detect 50% of swine CAFOs, so I reviewed the problem and improved it."
Despite some challenges, Montefiore enjoys creating new methods to analyze data.
"I like problem-solving," she says. "It sometimes is hard, but it's very rewarding when finally it works."
Today, Montefiore presents her water quality research at international conferences, such as the American Geophysical Union, with the aid of her fellowship. At these conferences, she is able to receive constructive criticisms to improve her algorithms and methodology and learn as a researcher.
"I didn't want to do something that was not significant. I wanted to do something that could improve people's lives."
Understanding the Past to Understand the Present
While she is still reconstructing the geospatial data, Montefiore is eager to understand the historical connection between water quality and swine density. She hopes to use her findings to narrow down what can be done to improve water quality in the present.
After completing her reconstruction of Duplin county's swine CAFO density, Montefiore plans to apply her methods to the entire coastal plain of North Carolina, using her computer to measure water quality trends.
"I think it is very important to understand the past modules to understand the present," Montefiore says. "It can help us look at what communities faced in the past or face now. It can also help us understand how we should manage waste lagoons. It also has the potential to help with water, air, and soil quality modeling in the future."
☔︎