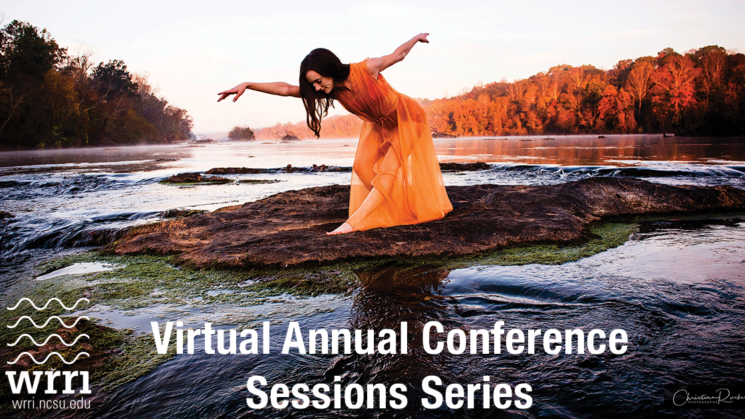 In April, WRRI hosted its first-ever virtual Annual Conference session, kicking off a series of periodic sessions throughout the spring and summer. These sessions will ensure the great planning work for the conference still serves the WRRI audience through converting to this virtual format, making WRRI Annual Conference content more accessible to the water resources community than ever before. 
In WRRI's inaugural virtual session, "Wastewater Treatment Along North Carolina's Changing Coastline," faculty and graduate researchers presented compelling work on current North Carolina wastewater treatment issues, tackling questions on the broad impacts of coastal sea level rise on wastewater infrastructure. The session brought together experts from North Carolina Sea Grant, East Carolina University, NC State University, the University of North Carolina at Chapel Hill, and the University of North Carolina Wilmington.
Jane Harrison, coastal economics specialist for WRRI's sister program, North Carolina Sea Grant, moderated the panel and its discussion about the effectiveness of wastewater treatment technologies and processes in the coastal environment. She currently  leads a NOAA-funded research project on these issues with several of the session's presenters.
Challenges for Clean Water on a Changing Coastline
Harrison began the session laying out the background of the work, explaining that coastal communities are susceptible to high-tide flooding and sea level rise, in addition to extreme precipitation events that can happen across the state. Thus, wastewater infrastructure in coastal communities experience immediate and long-term losses of system functionality due to climate change. 
Ongoing threats to these systems include an inability to process contaminants, potentially leading to human illness, ecosystem damage and, ultimately, the potential un-livability of communities that depend on them.
"Long-term groundwater level rise in coastal communities poses a threat to the functionality of onsite wastewater systems," explains Michael O'Driscoll from ECU, one of the presenters.
According to another presenter, Lawrence Cahoon of UNCW, saltwater can present a multitude of issues to wastewater infrastructure. These potential problems include corroding the metal pipes of wastewater infrastructure, altering wastewater-treatment processes, and creating a chemical reaction that can lead to the rapid degradation of cement.
The Economics of Adaptation
"As [environmental] economists, we're going to want to think about not only how to solve pollution problems, but also the potential cost," says Eric Edwards from NC State University, another presenter.
Student researchers Claire Bradley, Emily Gavin, Avery Morea and Anna-Gray Anderson from UNC Chapel Hill describe findings from interviews on wastewater treatment challenges with Dare County public officials, wastewater professionals and public residents. 
"There is no one-size-fits-all solution, so we're going to have to approach this from different angles," Bradley says.
Future WRRI Virtual Sessions Forthcoming 
In the coming weeks, WRRI will continue hosting  virtual sessions addressing pertinent water quality and quantity issues – and related research – in North Carolina. 
"Adjusting to these unprecedented times, WRRI is looking to increase information accessibility through these virtual sessions," says Nicole Wilkinson McIntosh, the WRRI coordinator for research and outreach. "Thus, we're making selected sessions available to the public via live webinars, which we will be archiving on the WRRI website."
Providing a platform for researchers to present their work and exchange ideas is key to fostering collaboration and generating more questions for researchers to produce useful information, McIntosh adds. "WRRI will continue working to increase the accessibility of important water resources information to researchers, environmental managers, policymakers and the interested public."
Watch the entire virtual session, "Wastewater Treatment Along North Carolina's Changing Coastline," on the WRRI Youtube channel.
☔︎