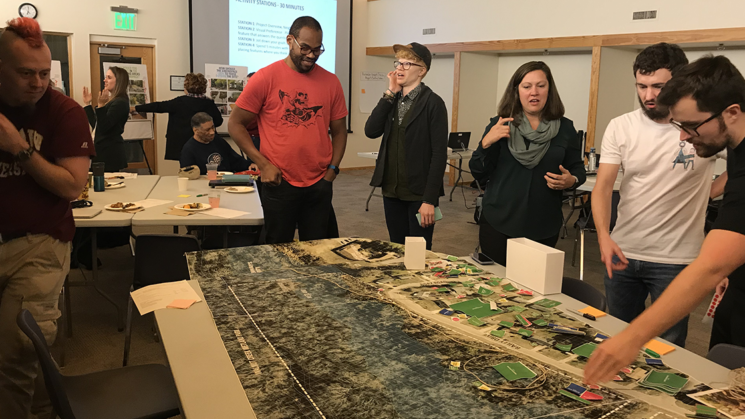 Photo above: Louie Rivers (center, in red) participates in a Parks with Purpose meeting with Walnut Creek Wetland Community Partnership members and the public.
The Walnut Creek Wetland Community Partnership, of which NC WRRI is a partner, has been hard at work on outreach into their Parks with Purpose service area, continuing to engage and support residents of the Rochester Heights and Biltmore Hills neighborhoods that lie within the Walnut Creek watershed. With COVID-19 forcing community members into quarantine, WCWCP is adapting its outreach model to continue to engage the community while addressing more urgent needs.
The zip code in which Rochester Heights and Biltmore Hills neighborhoods reside has been particularly hard hit by the recent pandemic, with the communities' infection rates outstripping the state's average. WCWCP partners saw this and realized that, while the neighborhood flooding and stormwater problems are important, the community had more urgent needs. Collaborating with The Conservation Fund – the organization that developed and funds the Parks with Purpose project – the team developed ideas for how best to support the community by filling a particular need. WCWCP co-coordinator Louie Rivers, an assistant professor in the Department of Forestry and Natural Resources at NC State University, had the idea of face masks to help protect residents from the novel coronavirus.
"We worked with a Durham business, Ngozi Design Group, to provide locally made face masks, along with partnership updates and socially distant engagement opportunities to about 50 community members who had previously provided their contact information," says Grace Fullmer, the WRRI community watershed specialist intern. "Through this project we were able to provide for a need in the community, support local business and nurture community relationships. It's challenging to know how community-embedded research and engagement organizations can continue to work with and support communities during COVID-19. This project is an example of how that can be done by focusing on the unique needs of the community during these times."
The partners hope their modest effort to provide the masks will spark ideas for similar organizations and community researchers, who are positioned to help their outreach areas but may not know exactly how.
Maintaining Relationships and Forging Ahead
Beyond the small project to provide masks in their service area, the WCWCP group has been making great strides on its core missions. The group has maintained a strong focus on the Parks with Purpose project. The consulting firm hired to design the Bailey Drive Gateway site of the Walnut Creek Wetland Park, Design Workshop, developed two concept plans for the site. Then, WCWCP sought feedback from the community on which concepts best suited the residents' interests and needs. Since then, community members have been providing feedback on those concepts, selecting their favorite elements and themes. Their feedback will direct the development of a final concept plan, which is nearing completion now.
The WCWCP team has also been busy developing a plan to help address the amount and velocity of stormwater that enters Rochester Heights Creek, in the hopes of mitigating rainy-day flooding in the Rochester Heights neighborhood. The group has identified potential sites for green stormwater infrastructure projects in Biltmore Hills Park and is now seeking funding in collaboration with the City of Raleigh and Kris Bass Engineering. The proposed infrastructure would help slow and treat water before it enters the creek.
Planning with an Eye to History
For all the current WCWCP projects, part of engaging the Rochester Heights and Biltmore Hills communities and learning the issues they face has been seeking out stories of what the neighborhood was like in previous eras. WCWCP partners Design Workshop and Jackie Turner Consulting have been collecting community stories from current and former residents who are sharing what it was like to live and grow up in Rochester Heights and Biltmore Hills in the early days of the neighborhoods. Such information can help reveal what residents value most about their neighborhoods and guide the design of art-focused projects.
Finally, the WCWCP team is developing ideas and a plan to continue engaging community members in ongoing projects. Some ideas under consideration are food boxes for residents in quarantine and virtual engagement activities, such as storytelling and neighborhood site tours. The team remains focused on identifying opportunities to not only engage local residents, but also to support them during these challenging and dynamic times by collaborating with NGOs and other groups, and supporting local businesses.
Learn more about the Walnut Creek Wetland Community Partnership and its activities here and on the Facebook page. Read more about Parks with Purpose here.
☔︎