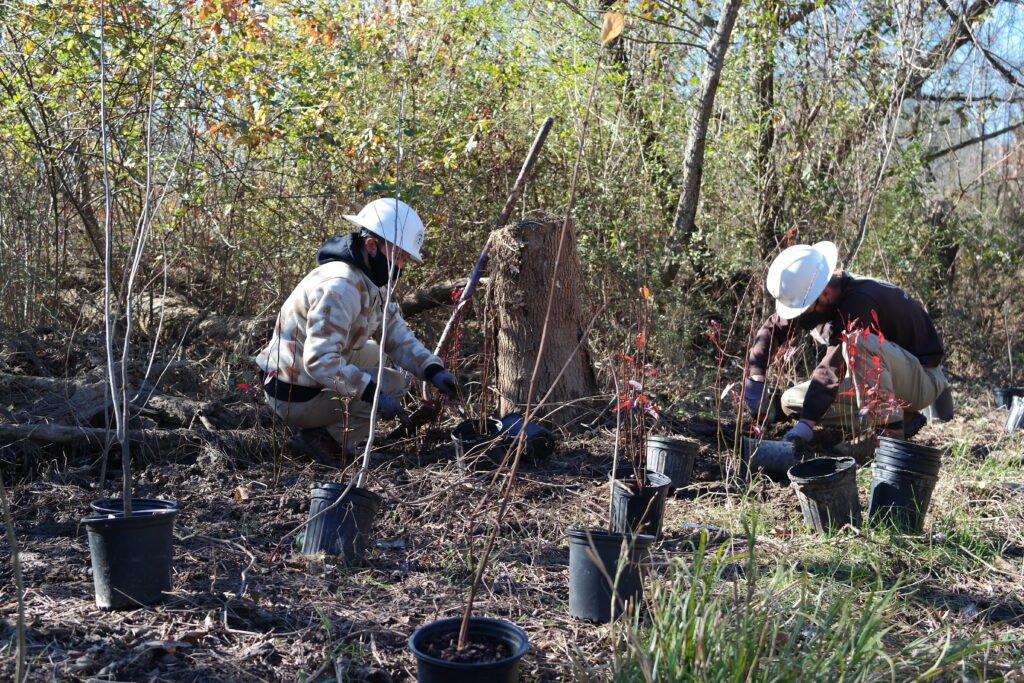 On a cold November morning and while holding his mud caked shovel, a local workforce training crew member, Kameron, reflected, "I remember talking about how to manage invasive species in one of my college biology classes, but I never received any hands-on experience, and didn't know how much work invasive management is. Now I know to eliminate invasives, you need a lot of people out in the field to rip it all up." To further the mission of the Walnut Creek Wetland Community Partnership, and the Raleigh Parks with Purpose project, a crew of five local young adults was hired to join an American Conservation Experience (ACE) crew to actively restore the park in a way that promotes urban environmental education, advocacy, and stewardship while also enhancing wetland health. Crew members worked for six weeks in November and December of 2020.
During the six-weeks, participants received two weeks of soft skill training from our partners at Step Up Ministry, Partners for Environment Justice, NCSU College of Natural Resources, and Water Resources Research Institute. This included resume building, networking, and preparing for future interviews, as well as the history of environmental justice issues in SE Raleigh, watershed science, and park and greenspace projects currently underway in this community. For the remaining four weeks, crew members worked tirelessly identifying and removing invasive plants and planting native species all throughout the wetland park, including on the new Bailey Drive Gateway site in the Rochester Heights neighborhood. Throughout the entire program, local professionals met with the crew to introduce and prepare participants for potential careers in land management, and to further their knowledge of the local environment and methods to keep Raleigh's wild places healthy.
This effort not only improved the health and wellbeing of the wetlands and the communities that surround them, but also gave locals an opportunity to gain new job skills for future employment, while also giving back to their local public lands and community.
So, head on down to the Walnut Creek Greenway near the Norman and Betty Camp Education Center to take a look at the hard work of these young individuals- who knows, maybe you'll see some new flowers blooming this spring!
The project was done in partnership with The American Conservation Experience, City of Raleigh Parks, Recreation and Cultural Resources, The Conservation Fund, Design Workshop, Duke Energy Foundation, NCSU, Partners for Environmental Justice, StepUp Ministry, and Water Resources Research Institute.