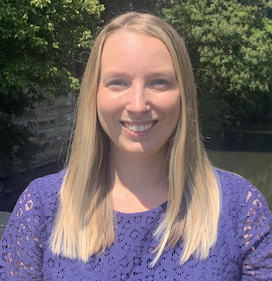 Kaitlin Tucker joined North Carolina's Water Resources Research Institute in 2021 as coordinator for research and engagement, with duties including group facilitation and strategic planning for programming and events.
She returns to North Carolina, where she attended her first professional conference at a WRRI event, and now she will be providing similar opportunities for students and early career professionals. "I see myself as a connector, a liaison at the interface of researchers and decision makers," she explains. "I have always seen the need for people to collaborate to find solutions. We need to find areas to bring people together."
Tucker also has had several roles at the Partnership for the Delaware Estuary including administering the Delaware Resilient and Sustainable Communities League, and serving on the league's  steering committee. She also managed a statewide annual meeting and coordinated water quality monitoring across 18 sites as part of the Delaware River Watershed Initiative.
In addition to her bachelor's degree from NC State University, she has a master's degree from the University of Delaware. Her studies ranged from biogeochemistry of carbon in ecosystems to technical mapping and science communications. When not working, Tucker enjoys a range of outdoor activities and is a trained NOAA weather spotter.