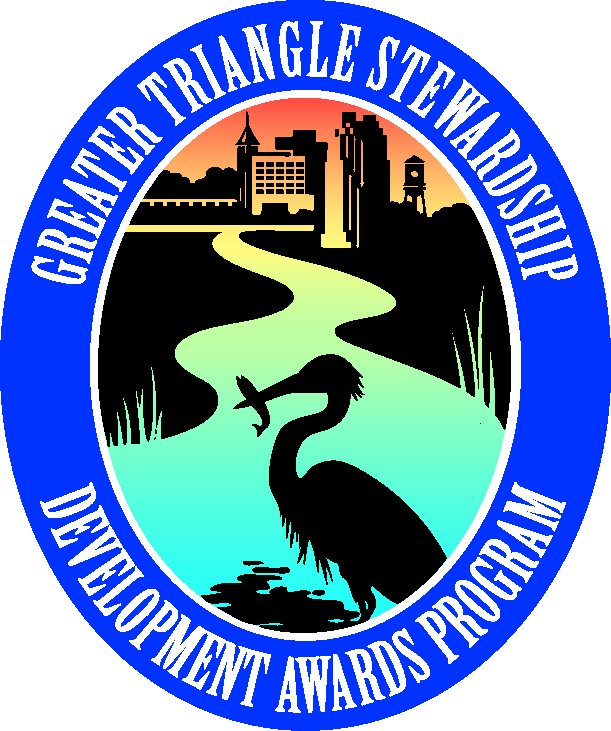 The 2017 Greater Triangle Stewardship Development Award Reception and Ceremony will be held on
May 4, 2017 from 5:30 pm – 7:30 pm at the JC Raulston Arboretum, Raleigh, NC.
Advance registration is requested for this FREE event. We welcome keynote speaker Dr. Larry Band, Director of the Institute for the Environment at the University of NC at Chapel Hill.  Heavy appetizers and beverages will be provided. Please visit the Eventbrite  Page to register.
The purpose of the Greater Triangle Stewardship Development Awards (GTSDA) Program is to recognize land developments and redevelopments that go beyond compliance in protection of water quality, preservation of natural habitats and open space, use of green building techniques, enhancement of community fabric, and education of the public.
To learn about the GTSDA 2016 Awardees, visit
https://wrri.ncsu.edu/blog/2016/05/triangle-developments-honored-for-stewardship/
Each year, an interdisciplinary expert panel of judges evaluates applications for achievement in multiple areas of sustainability:
Natural Resource Assessment
Water Quality Protection
Wildlife Habitat Protection
Vegetation Protection and Enhancement
Green Building
Integration with the Community
Long-Term Management and Maintenance
Community Outreach and Education
Possible awards include Gold (excels in all applicable criteria), Silver (excels in most applicable criteria), Design, Concept and Honorable Mention. More details about the Awards Program are within the GTSDA Program Policy Manual. Applications are accepted in the fall of each year.
Modeled after a sister program in the coastal NC area, the Greater Triangle Stewardship Development Awards Program is a partnership established in 2010 among local businesses, academia, state agencies and local governments. The program incorporated as a 501(c)(3) nonprofit organization in 2014.
Sponsoring partners make the GTSDA happen! The 2017 Sponsor request letter provides information on how to sponsor GTSDA. Sponsorships are welcomed for the 2017 GTSDA Awards Program, and currently include:
Cardinal sponsors:
Chickadee sponsors:
For more information please contact one of our board members:
Jason Doll              JDoll@moffattnichol.com
Tom Hill                  Thomas.Hill@ncagr.gov
Sarah King              sarahk@nccoast.org
Christy Perrin         christy_perrin@ncsu.edu
Gloria Putnam        gfputnam@ncsu.edu
Dianne Reid            dragonflyresourcesllc@gmail.com
Fred Royal               froyal@pittsboronc.gov
Rebecca Sadosky    rebecca.sadosky@ncdenr.gov