About the Partnership
The Walnut Creek Wetland Community Partnership formed in 2014 by residents and organizations interested and working in the community surrounding the Walnut Creek wetlands in Southeast Raleigh. Their mission is to:
provide an information hub and communication forum for academic, government, community leaders, and residents to collaborate on education, research, sustainable management of the wetlands' natural resources and development of the surrounding human community.
Partners communicate through an email listserv and periodic gatherings in the community. WRRI and NCSU College of Natural Resources are coordinating the partnership. Email Christy Perrin at christy_perrin@ncsu.edu to subscribe to the listserv. Email Christy or Louie Rivers at lrivers@ncsu.edu with any questions.
Parks with Purpose project
A  "Parks with a Purpose" effort has been engaging community in creating a new park facility with multiple benefits. A Community Task Force guides the project that started in 2018 and is funded by The Conservation Fund. The Task Force chose to design and construct nature park facilities on a site along Bailey Drive in partnership with City of Raleigh. Community feedback is currently being sought by Design Workshop, the firm hired for site design. Contact Jackie Turner at jackie@jturnerconsulting.com if you'd like a visit to your group. A concept plan will be shared at the PWP Mar 30, 2020 meeting. Scroll down to "News and Opportunities" for more information and ways to get involved.
New Documentary
A new short documentary film tells the inspiring story of the Walnut Creek Wetland Park, from its founding to the present day. Watch the film here.
Wetlands
What are wetlands? Wetlands are low lying lands that collect water, have soggy soil, and provide homes to a variety of plants and animals. Wetlands act as sponges and filters, helping to control flooding and provide clean water. The Walnut Creek wetlands in southeast Raleigh help to remove pollution and reduce flooding from water flowing from downtown Raleigh. They also provide a natural outdoor place for people to enjoy.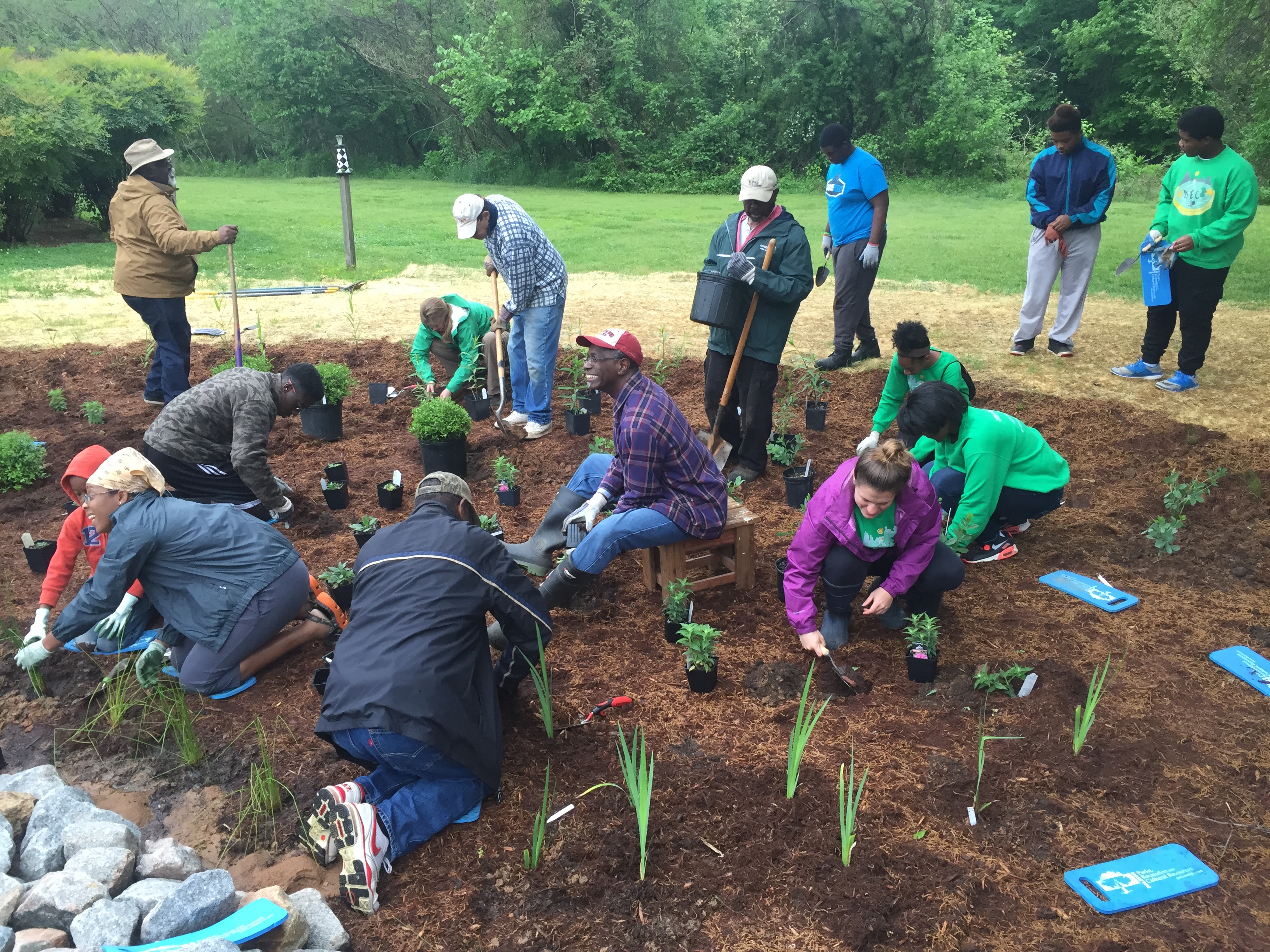 News and Opportunities
The Parks with Purpose Community Task Force next meets on Monday, Mar 30, 2020 from 5:30 pm- 8:00 pm at Walnut Creek Wetland Park. RSVP to christy_perrin@ncsu.edu to be included in the dinner count.
Read our Parks with Purpose February 2020 update to learn about current efforts.
We are creating a plan to reduce stormwater runoff and erosion in Rochester Heights Creek, thanks to a grant from American Rivers. Contact Grace Fullmer at gfullme@ncsu.edu for more information.
NCSU College of Design students visualized Task Force ideas as concept plans in 2019. See their ideas in their Studio Presentations. You can also see the Final LA classes report.
The Task Force has a Parks w Purpose Community Outreach Plan__Jan 3 draft
WCWCP installed a rain garden at St. Ambrose Episcopal Church, funded by an American Rivers grant and City of Raleigh Rainwater Rewards. Watch three videos about the rain garden at the City's site here
Current efforts
New "Parks with a Purpose" project engages community in identifying and installing a park facility with multiple benefits. A Community Task Force guides the project that started in 2018 and is funded by Conservation Fund.
Dresden McGregor,an NCSU graduate student, worked in the community to learn more about residents' views, flooding, and green infrastructure opportunities. These are projects that use nature to provide community and environmental benefits. Email Louie Rivers for information.
City of Raleigh Parks, Recreation and Cultural Resources worked with community to develop a master plan for a Wetland Park to surround the existing Walnut Creek Wetland Center. Council approved the plan.
Theo Jass and Ryan Emanuel, NCSU CNR, used American Rivers funding to see how high Little Rock Creek and Rochester Heights' creeks get after rain events.
Have you worked in the Walnut Creek wetlands and/or surrounding community in southeast Raleigh?  We seek to create an archive of projects and results and resources to share with the community.  Please contact us if you have a project to share.
Who we are
We step up to the table with our individual motivations, gifts, talents, and humility, seeking to share those in a place we care about, with people we care about. We invite residents and organizations that are active in the community to join us. So far, we include:
Institute for Landscape Art and Sustainable Spaces