NC Urban Water Consortium-Funded Researcher Looks to Eliminate PFAS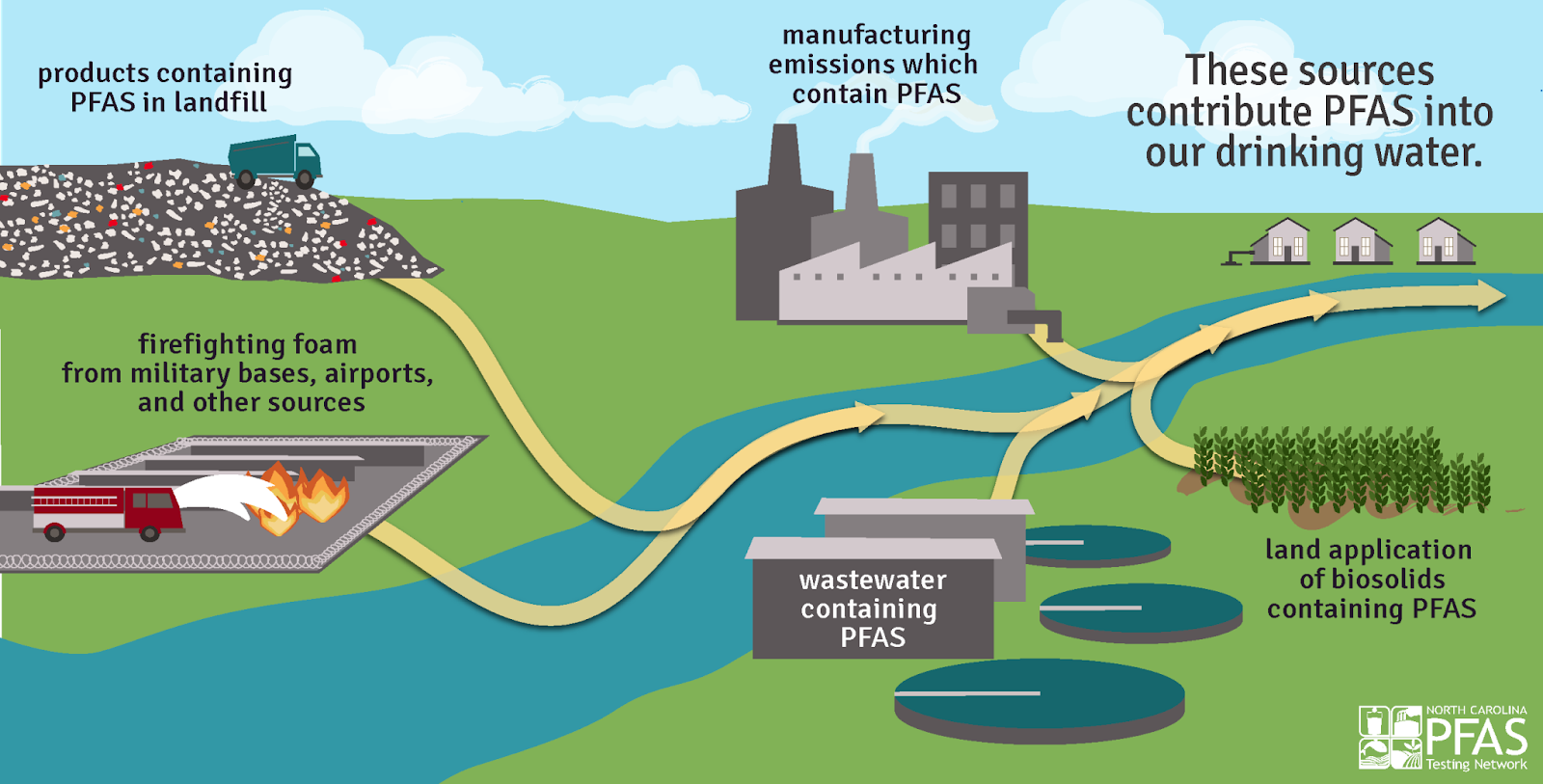 Scientists in North Carolina and beyond continue to identify harmful effects of chemicals once considered useful and innovative — but those chemicals are now causing damage to our water systems and to our bodies.
Now known as forever chemicals because of their persistent and lasting nature, these chemicals include PFAS (per- and polyfluoroalkyl substances) that were used in products such as non–stick pans and waterproof clothing.
"Research on how to safely remove PFAS from water systems is at the forefront of water research today," says Kaitlin Tucker, research and engagement coordinator for NC WRRI.
For Mei Sun, now on faculty at the University of North Carolina at Charlotte, her PFAS studies began in 2013 while completing her post-doctoral research at North Carolina State University in partnership with scientists from the U.S. Environmental Protection Agency. EPA had found emerging chemical structures — made of chains of carbon atoms bonded to fluorine atoms — of PFAS in the Cape Fear River. The EPA team and partners were concerned those structures would end up in people's drinking water.
"From that time, I started devoting most of my research efforts to this area — trying to identify PFAS in our environment and looking for solutions to stop such contamination," Sun notes. Her research in the UNCC Department of Civil and Environmental Engineering continues, including funding from the North Carolina Water Resources Research Institute, and the NC Urban Water Consortium.
The growing body of research dedicated to removing PFAS from drinking water streams has not only revealed the need to break down the chemical structures but also has revealed that often the byproduct pollution of the breakdown is just as toxic as the chemicals. 
Thus, Sun and her postdoctoral researcher, Dr. Yingying You, are evaluating chemical methods to destroy PFAS from waste streams in a cost-effective and sustainable way — a goal that has not yet been achieved. Their research relies on UV light reactors for PFAS degradation, along with analytical instruments, such as mass spectrometers, for PFAS quantification.
In the research process, PFAS are first removed from water using ion exchange, a common treatment technique for extracting PFAS into a small waste stream. UV light reactors are then used to break down PFAS in the waste stream by adding sulfite. The radiation from the rays removes electrons from the sulfite, which move around and snip carbon-fluorine bonds — breaking down the molecules.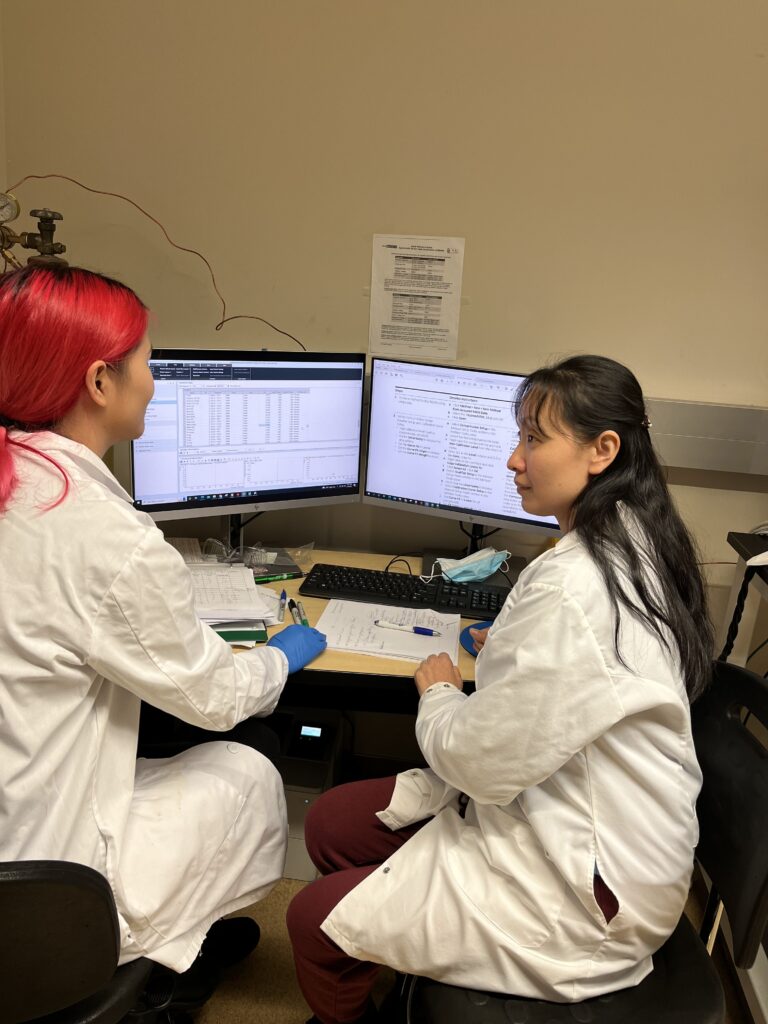 The PFAS concentrations before and after the treatment are measured using liquid chromatograph-tandem mass spectrometry, with the former separating chemical mixtures into individual components, and the latter identifying and quantifying each component.
Looking Ahead
North Carolina has some of the highest PFAS levels in the country, making research like this particularly important. Sharing PFAS information with the public should include actions, Sun explains "Be aware of their potential existence and risk. Minimize unnecessary use of consumer products containing high levels of PFAS, such as nonstick cookware and certain brands of personal care products such as shampoo and nail polish."
The federal EPA recently announced a proposed National Drinking Water Regulation to establish enforced levels for two PFAS that would limit the Maximum Contaminant Level (MCL) to 4 parts per trillion (ppt), a level that can be reliably measured by most labs, along with four other PFAS via a more complicated calculation of Hazard Index. The North Carolina Department of Environmental Quality (NCDEQ) would follow this new federal regulation once it becomes final.
"Dr. Sun's research is timely given the proposed MCL from the EPA. Drinking water utilities recognize the need to destroy PFAS and this research will provide important information as drinking water utilities seek new technology to comply with the new proposed EPA standards," Tucker notes.
Once the federal proposal becomes final, public water systems across the country will have three years to comply with the new regulations. A national virtual hearing will be held on May 4, 2023, while the public also now can provide comments on the proposal at www.regulations.gov under Docket ID: EPA-HQ-OW-2022-0114. The deadline for public comment period is May 30, 2023. For more information, visit https://www.epa.gov/sdwa/and-polyfluoroalkyl-substances-pfas.
"This research is important because the current treatment process only transfers PFAS from one media (drinking water) to another (wastes). Ultimately, we still need a solution to eliminate PFAS," Sun says.
##