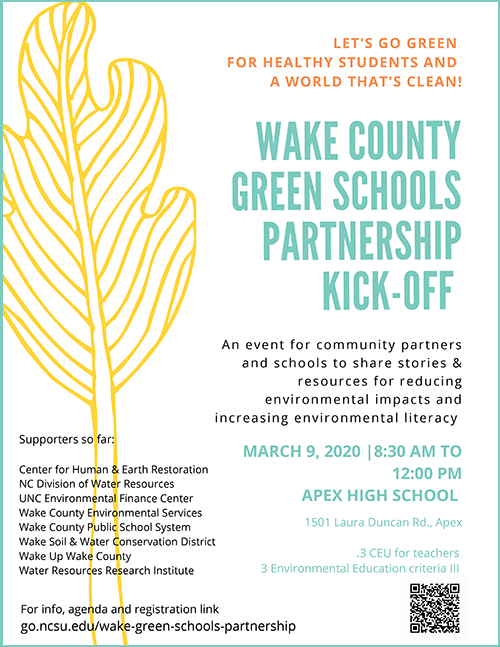 Visit the Wake County Green Schools Partnership Website at
Our thanks to those who joined the June 15 webinar! If you missed it, watch the recording.
Thank you to those who joined us at the Wake County Green Schools Partnership Kickoff Event
March 9, 2020
Apex High School
The Wake Green Schools Partnership grew out of a transformative symposium. The University of North Carolina Environmental Finance Center hosted the Wake Green Schools Symposium in February 2019 and seventy representatives of Wake County Public School System teachers, administrators, and facilities; local governments; local nonprofits; and academia attended. The participants learned about and discussed opportunities to support the greening of schools through efforts such as renewable energy, stormwater management, waste reduction and environmental literacy. This meeting of the minds energized the participants in ways they had not imagined. Their overwhelming interest in continuing the work led to the formation of three work teams to advance a new partnership. These teams include the Policy/Finance team, Environmental Literacy team and Pilot Projects team (currently focusing on Rolesville High School). The Wake Green Schools Partnership is currently coordinated by the NC Water Resources Research Institute, UNC Environmental Finance Center, Wake County Environmental Services (Water) and Wake Up Wake County.
Wake County Green Schools and Partners
Center for Human & Earth Restoration
NC Division of Water Resources
UNC Environmental Finance Center
Wake County Environmental Services
Wake County Public School System
Wake Soil & Water Conservation District
Wake Up Wake County
Water Resources Research Institute