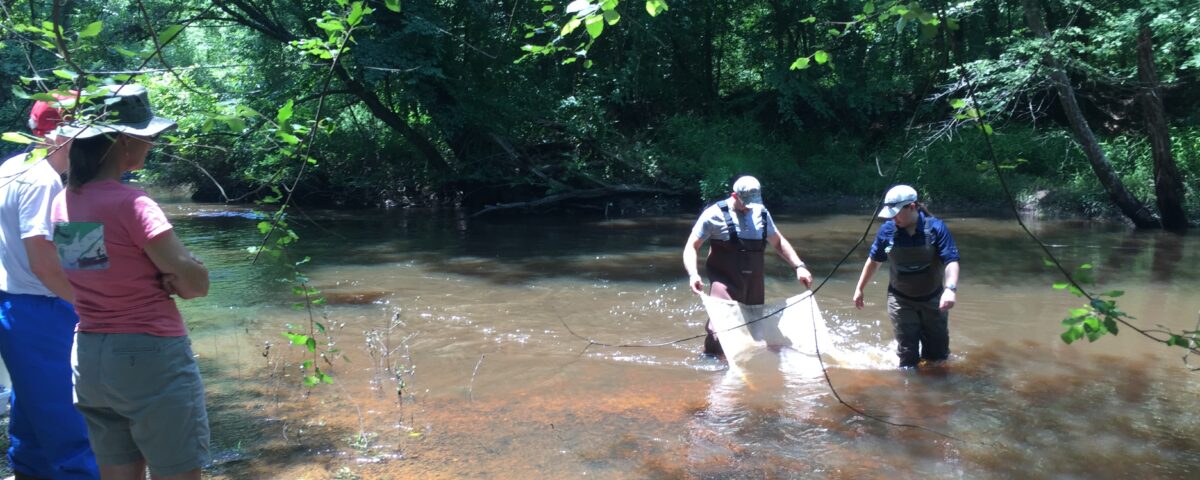 Do you need support for your community water monitoring efforts? The NC Aquatic Data Hub (NCADH) formed to encourage and support community water monitoring to better understand, protect, and improve North Carolina's waters. NCADH provides resources for new groups and existing organizations to contribute to and access a statewide network of aquatic data.
Tiered System
The partnership created a tiered system and a methods manual to guide community water monitoring methods. Tier level of data reflects both the resolution and accuracy of equipment used and the Quality Assurance Project Plan. For example, an expensive and highly accurate meter used without an accepted QAPP would qualify as Tier 1 data.
| Method Tier | Data Uses | QA/QC Requirement |
| --- | --- | --- |
| Tier 1 | Education, baseline data, red flags | QAPP not required |
| Tier 2 | Identify waters for follow up monitoring | QAPP required and followed |
| Tier 3 | State Assessment | Data collection follows NCDEQ protocols to list and de-list water bodies |
The Methods Manual includes monitoring methods for three parameters: habitat assessment, benthic macroinvertebrates, and chemical/ physical. The current version is helpful for monitoring mountain, piedmont, and coastal plain streams, though does not include methods for tidal creeks. You can download the manual below.
NC Stream Watch
If you are interested in exploring the health of your stream, or helping others learn about it, consider joining NC Stream Watch. Here you can find an app for easily collecting and instantly sharing your Tier 1 data state-wide, and view other groups' data on the Stream Watch dashboard.
Submit data to NC Division of Water Resources
NC Division of Water Quality invites all interested parties to submit water quality data and information for consideration in their water quality data assessments (also known as the Integrated Report), which occur every two years. For more information on how to submit data and how data may be used, visit the Water Quality Data Assessment web page and scroll down to the heading How can you submit data?
NC Aquatic Data Hub Overview
The North Carolina Aquatic Data Hub meets regularly to share information and collaborate on advancing state-wide support tools for community monitoring. The NCADH was made possible by a $160,000 two-year grant awarded by the Z. Smith Reynolds Foundation to support a statewide citizen science water quality monitoring project to New River Conservancy on behalf of multiple non-profits and agencies across the state. Partners of this initiative include Carolina Wetlands Association, Environmental Quality Institute, Haw River Assembly, Mountain True, NC Division of Water Resources, River Network, NC Museum of Natural Sciences, NC Sea Grant, NC Watershed Stewardship Network, River Guardian Foundation, NC Natural Heritage Program, and Water Resources Research Institute.
Monitoring programs are effective tools towards reaching conservation action. Collaborating statewide on monitoring efforts can help improve or protect NC waters, especially in an era of decreased government funding for monitoring.