Congratulations to the 2023 NC WRRI Annual Conference Poster Winners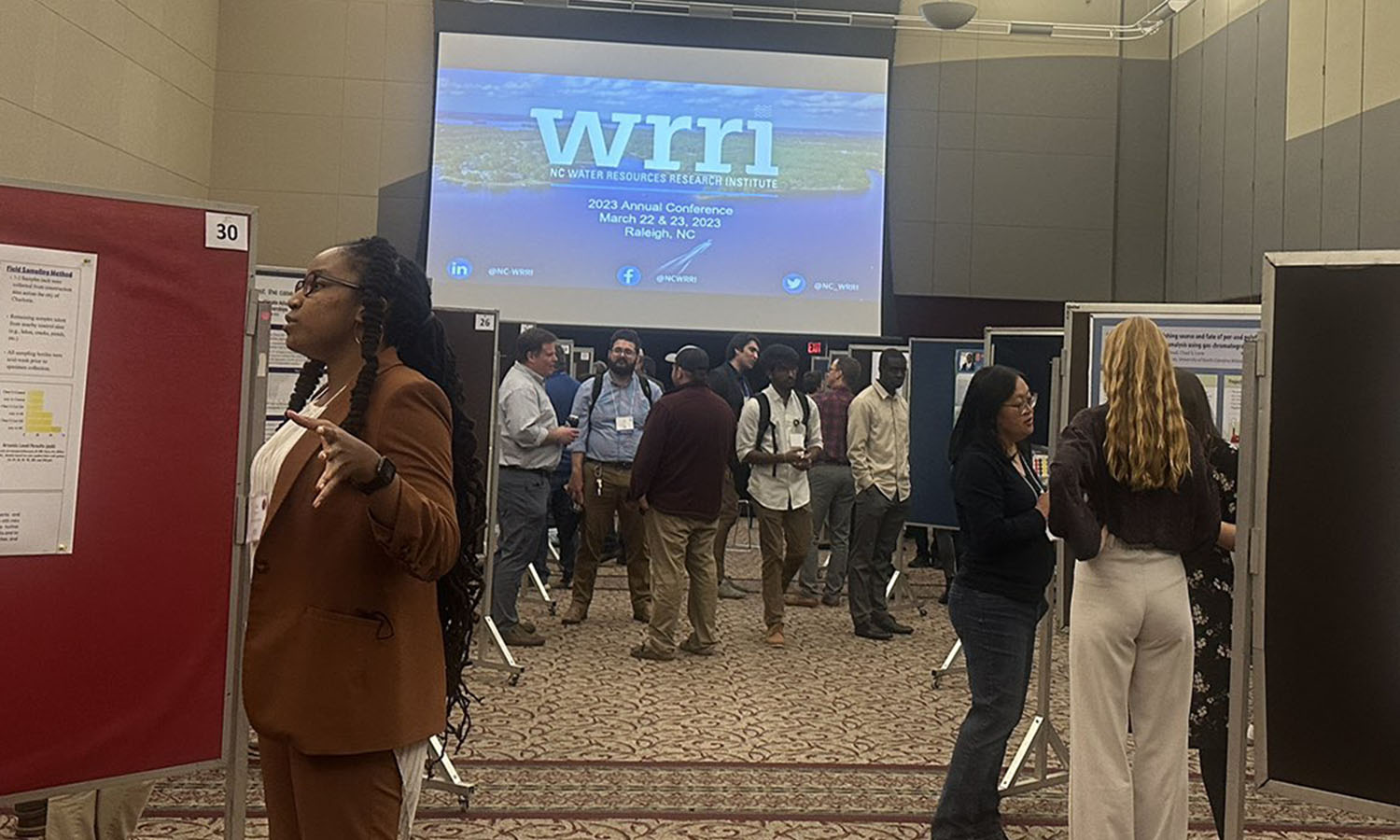 The 25th NC WRRI Annual Conference took place at NC State's McKimmon Center on March 22 and 23. Over 260 attendees joined from different sectors and disciplines across North Carolina, including water utilities, students, consultants, academics, nonprofits, and state agency staff.
The annual conference also gave undergraduate and graduate students the chance to present their research via WRRI's student poster competition and win votes from presentation judges. The North Carolina Water Resources Association (NCWRA) sponsored the contest and awarded prizes to each of the student winners.
2023 Winners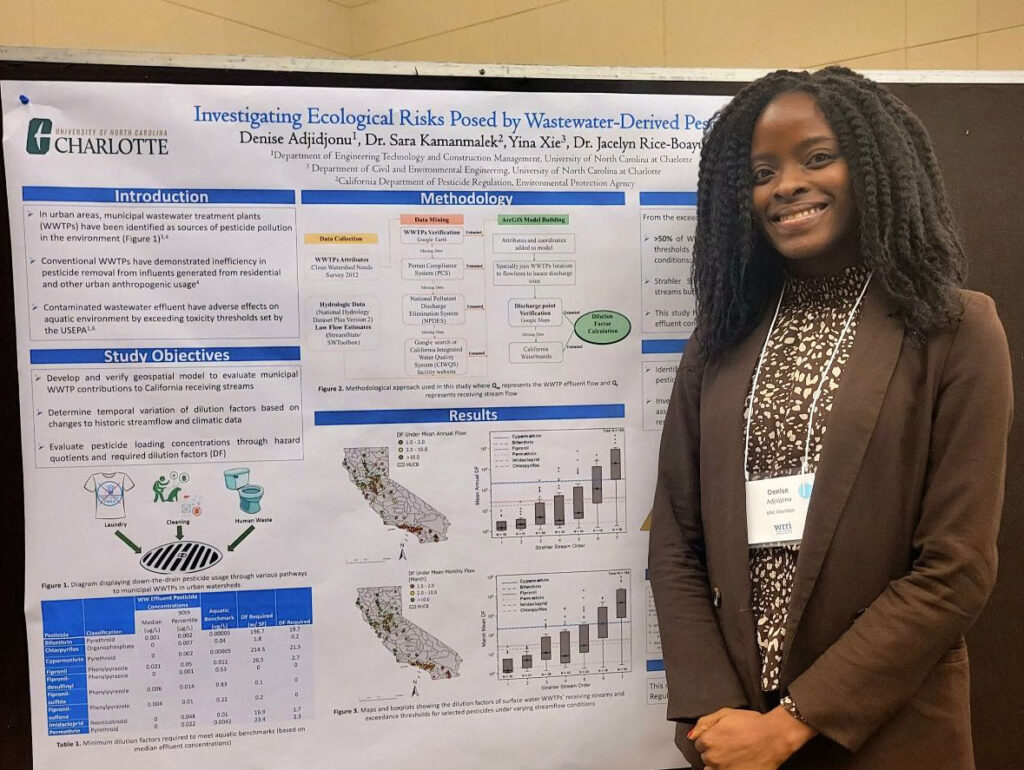 1st Place: Denise Adjidjonu, UNC Charlotte
Denise Adjidjonu won first place for her presentation, "Investigating Ecological Risks Posed by Wastewater-Derived Pesticides." Denise is an Infrastructure and Environmental Systems (INES) PhD student at the College of Engineering at UNC Charlotte. Her advisor is Dr. Jacelyn Rice-Boayue.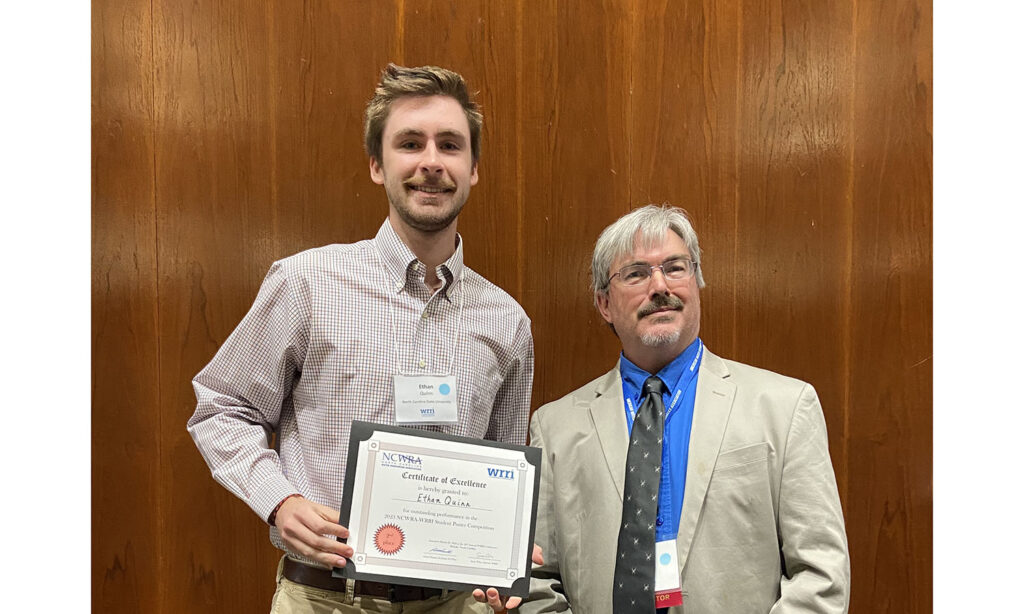 2nd Place: Ethan Quinn, NC State University
Ethan Quinn won second place for his presentation, "Tailoring Activated Carbon for Improved Reactivity Towards Aqueous Contaminant Degradation." Ethan is a PhD student in the Environmental, Water Resources, and Coastal Engineering Department at NC State. His advisor is Dr. Douglas Call.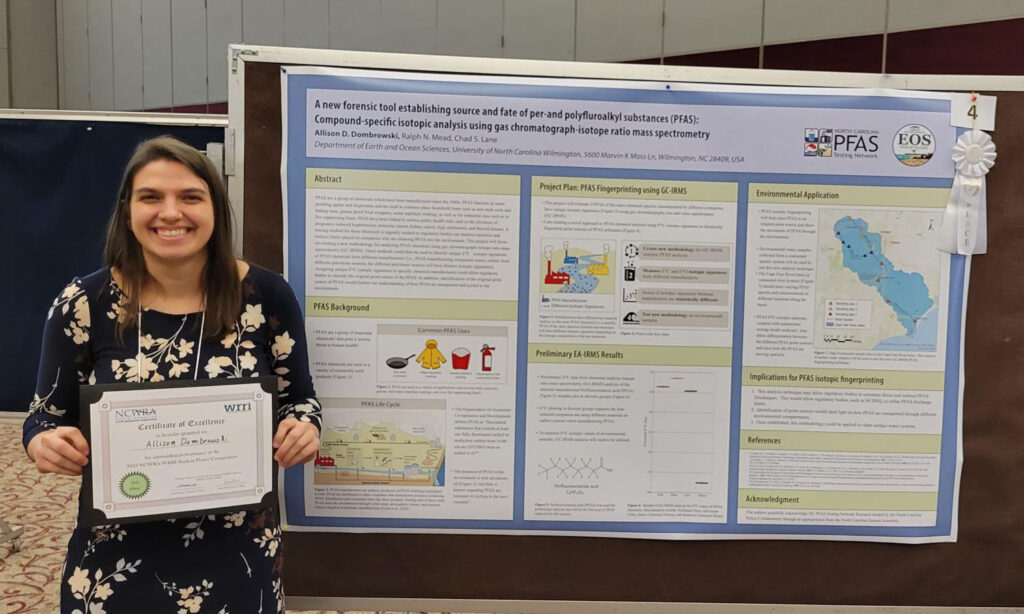 3rd Place: Allison Dombrowski, UNC Wilmington
Allison Dombrowski won third place for her presentation, "A New Forensic Tool Establishing Source and Fate of Per-and Polyfluoroalkyl Substances (PFAS): Compound-Specific Isotopic Analysis Using Gas Chromatograph-Isotope Ratio Mass Spectrometry." She is a Masters student in the Department of Earth and Ocean Sciences at UNC Wilmington. Her advisors are Dr. Ralph Mead and Dr. Chad Lane.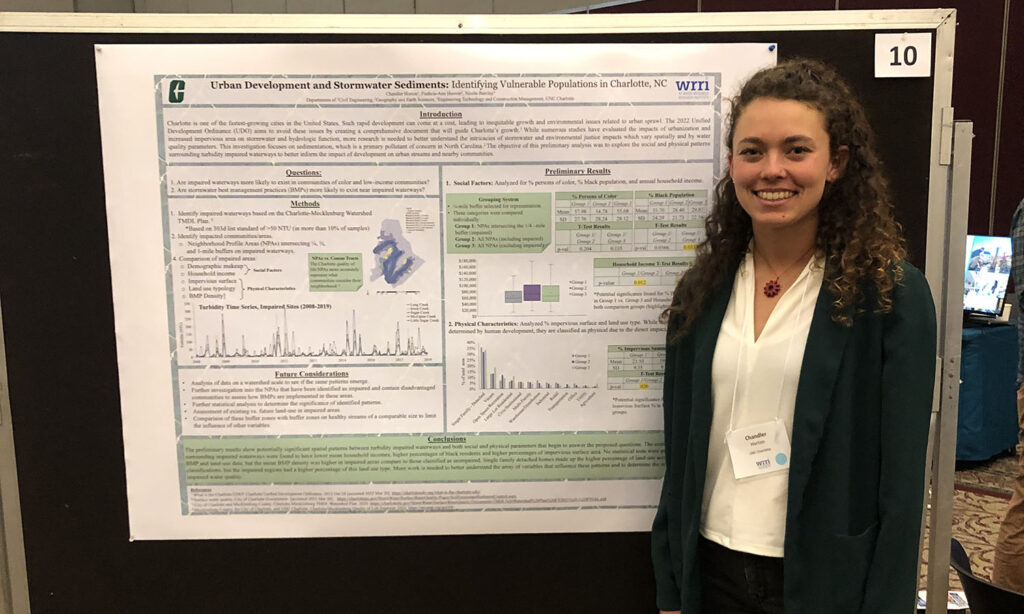 Honorable Mention: Chandler Horton, UNC Charlotte
Chandler Horton received Honorable Mention for her presentation, "Urban Development and Stormwater Sediments: Identifying Vulnerable Populations in Charlotte, NC." Chandler is an undergraduate student double majoring in Civil Engineering and Earth Sciences at UNC Charlotte. Her advisors are Dr. Fushcia-Ann Hoover and Dr. Nicole Barclay.
Congratulations to all award recipients and many thanks to this year's presenters, attendees, sponsors, and exhibitors for making this event possible!
Abstracts for all poster and oral presentations presented at this year's conference are accessible in the 2023 NC WRRI Annual Conference program booklet which is available on the WRRI website.