Annual Conference Coming Soon, Agenda Now Available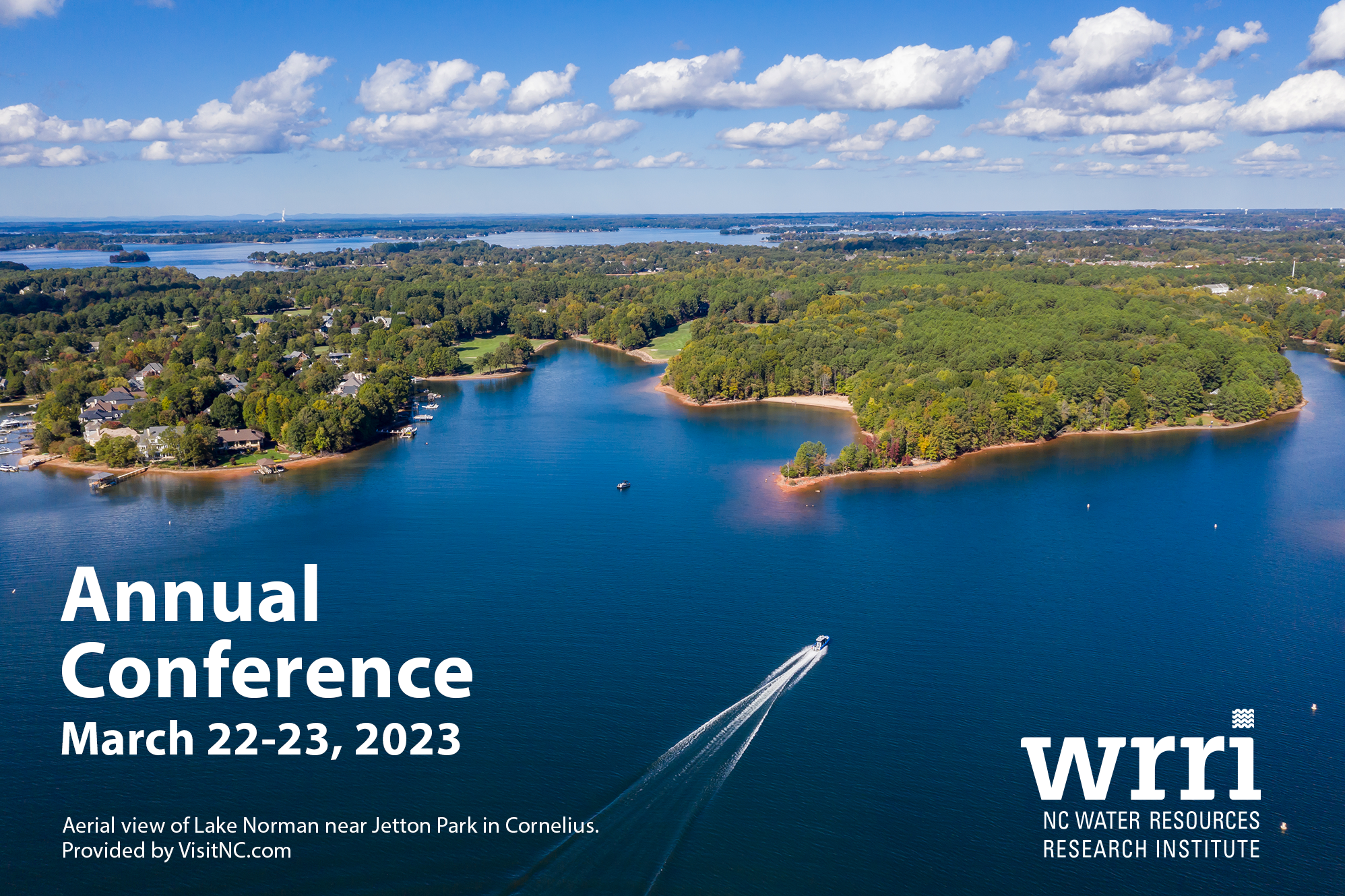 The North Carolina Water Resources Research Institute's 24th WRRI Annual Conference agenda is now available online. We encourage guests to check out all the sessions and be sure to catch some of the WRRI-funded researchers as they make presentations, give lightning talks and participate in the poster presentation competition.
The conference will be held in a hybrid format this year, allowing attendees to join either in person at the McKimmon Center in Raleigh, North Carolina, or online via the Zoom platform.
Registration for the 2022 Annual Conference is currently open and will close on March 11.
The keynote speaker for this year's Annual Conference is Michelle Covi, the Department of Defense liaison with the University of Georgia Marine Extension and Georgia Sea Grant. Covi brings a regional perspective on water resources from her work across the southeast in Virginia, Georgia and North Carolina. She has expertise in coastal community resilience, sea level rise risk communication, and research and outreach related to coastal hazards.
Highlights of the conference include concurrent panel discussions on topics such as water quality and public health, economics and water resources in North Carolina, stormwater management and green infrastructure, climate resilience and planning, and many others; student lightning talks; and a network reception and poster showcase.
WRRI is pleased to host USGS representatives Laura Gurley, Anthony Gotvald, Charles Stillwell, J. Curtis Weaver and Kristina Hopkins – who is coordinating a session on streambank erosion with WRRI-funded graduate student researcher Layla El-Khoury and others.
The Annual Conference will also feature currently funded 2021-22 WRRI faculty researcher Nicole Barclay of the University of North Carolina at Charlotte, who will speak on the development of data-driven analytics tools for prioritized management of stormwater infrastructure in Concurrent Session 7 on Day 2. Those who remember our story about previously funded WRRI community outreach and engagement researcher Bryan Patterson of Johnson C. Smith University can catch his presentation about engaging citizens in historic Charlotte neighborhoods to tackle long-term stormwater issues, during Concurrent Session 5 on Day 2.
Catch currently funded WRRI graduate student researchers Layla El-Khoury, Sara Kamanmalek and Hunter Quintal as they present during concurrent sessions on Day 1, March 23, and Hayden Rudd as she opens the Lightning Talks session on Day 1 at 4:25 p.m. Adeola Sorinolu and Alexis Swanson will be presenting posters during the networking reception that will take place 5-7 p.m. at the end of Day 1. Funded graduate researchers Leah Weaver and Jonaé Wood will present their work in sessions on Day 2, March 24.
WRRI coordinator for sustainable waters and communities, Christy Perrin, will moderate an environmental justice-focused session on growing a collaborative and equitable approach for the urban Walnut Creek watershed, which is located in the Raleigh area. Frequent WRRI collaborators Amin Davis of Partners for Environmental Justice and Cam McNutt of NC Department of Environmental Quality, among other partners, will present. The panel will take place during Concurrent Session 3 on Day 1.
WRRI sister program North Carolina Sea Grant's Gloria Putnam will be coordinating and moderating a panel discussion on plastic pollution in the state's waterways. This much-anticipated session, postponed from the 2020 conference season, will take place during Concurrent Session 6 on Day 2.
Barbara Doll, also of sister program North Carolina Sea Grant, will be coordinating a panel and presenting on the topic of natural infrastructure for flood mitigation during Concurrent Session 8 on Day 2. Doll and fellow researchers will present their estimates of opportunities, flood reduction potential, implementation costs, and possible economic and water-quality benefits of natural infrastructure in the Middle Neuse River Basin in North Carolina.
WRRI extends thanks to this year's Watershed Level Annual Conference sponsors, the University of North Carolina System, NC State University Office of Research and Innovation, and McAdams Co., for their support. We also thank our River Level sponsors, the North Carolina State Climate Office and In-Situ, Inc., as well as other sponsors.
Please visit the WRRI Annual Conference website for future updates. Registration will remain open until this Friday, March 11.
The WRRI staff and conference presenters look forward to welcoming you to the 24th Annual Conference, whether you join online or in person!