NC WRRI Calls for 2024 Conference Abstracts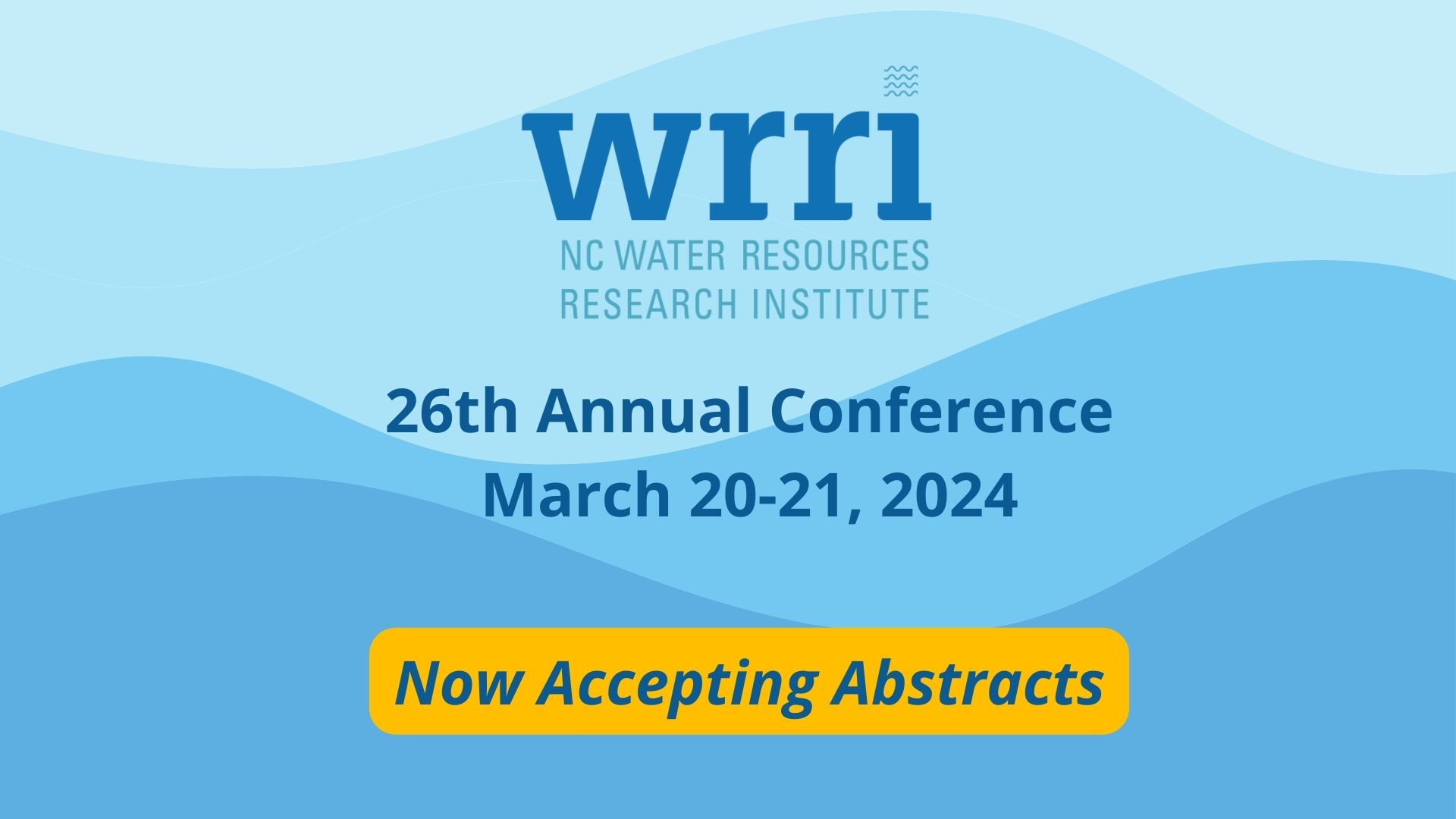 North Carolina Water Resources Research Institute (NC WRRI) will hold the 26th annual water conference on March 20-21, 2024. The call for abstracts is now open.
Now Accepting Abstracts
WRRI's annual conference brings together students, faculty, and practitioners from multiple sectors and disciplines working in water resources across North Carolina. The 2024 event will take place on March 20-21 in Raleigh.
NC WRRI is accepting abstracts until 11:30pm, Sunday, Dec. 3, 2023, for presentations, panels, training sessions, lightning talks, or other presentation formats.
"Each year we look forward to offering a full program covering a broad scope of water resources topics, and it all starts with the call for abstracts," says Kaitlin Tucker, NC WRRI coordinator for research and engagement. "We're open to a variety of presentation styles that will engage our attendees."
Previous topics have addressed groundwater and surface water quality and quantity, water and wastewater treatment, public health and environmental justice, community engagement and education, stormwater management and flooding, green infrastructure, contaminants of concern and more.
Multiple Presentation Styles Welcome
Presenters can choose one of the styles below or suggest their own.
Oral Presentation – Present a ~15 minute talk with slides. Selected presentations will be placed into a session based on topic.
Poster Presentation – Present a scientific poster summarizing research. All students will automatically be entered into the poster competition for a chance to win a cash prize.
Full Session or Panel Discussion – Plan a session (approximately 90 minutes) consisting of several oral presentations, a panel, a discussion, or a training session.
Lightning Talk – Present a captivating and informative 5 minute mini-presentation. Selected talks will be placed into a session consisting of other lightning talks. All students will automatically be entered into the lightning talk competition.
Other – Suggest a new presentation style! – WRRI is open to ideas that inform in engaging and exciting ways!
"The annual conference is an excellent opportunity for undergraduate and graduate students to share their research and gain presentation experience in a supportive environment," continues Tucker. "This year we're excited to continue to host a student poster competition and we plan to add a lightning talk competition for student participants." Students can learn more about these competitions by visiting the students page of the conference website.
Deadline
Abstracts, typically 250 word summaries of the topic to be covered, are due no later than Sunday, Dec. 3, 2023 at 11:30 pm. All abstracts should be submitted through the eNCWRRI submission portal which can be accessed via the NC WRRI website. WRRI encourages presenters to submit abstracts early.
Additional Information